How to setup UPnP when Xlight FTP Server is behind broadband routers?
If your FTP Server is behind broadband router, the simplest way to setup FTP Server is through UPnP. Starting from Xlight FTP Server version 2.6, UPnP is supported and it is available for the personal edition.
Go to [Global Options]->[General]->[Firewall and broadband Router], click the [setup...] button. In the dialog box, select the option "Auto-configure WAN IP and port forwarding" as showed in the figure below:

You can click the [Test...] button to test if your broadband router support UPnP. Some broadband routers support UPnP by their default settings, but some don't. You may need to change router's settings to enable UPnP. If the test is successful, then the UPnP is supported in your broadband router.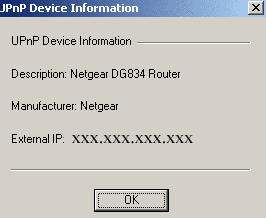 When UPnP is enabled, Xlight FTP Server will open port 61010 and 61011 automatically through UPnP in your router. This two ports are used for FTP passive mode. If you want to use other port range for PASV command, you can choose port range manually under the "Configure port range for passive mode". For UPnP, maximum 5 ports is allowed for PASV port range. If you want to open more passive port range, you have to setup port forwarding manually in the router. Xlight FTP Server will automatically open FTP ports for virtual servers in the router through UPnP.
When FTP Server behind broadband router, UPnP is a fast way to setup. But beaware of its limitation. UPnP can have compatibility problem, and the UPnP implementation in the broadband router may be buggy. Xlight FTP Server may not be work compatible with some broadband routers. For many broadband routers, ports opened by UPnP will lost if they reboot. So if your broadband router reboots after Xlight FTP Server is started, you may need to restart Xlight FTP Server. If you want ports to be opened permanently in the broadband router, you will need to setup port forwarding manually. Because UPnP is a security issue for enterprise, high end routers and firewalls used in the enterprise environment will never have UPnP support. Try to use UPnP behind those devices will always fail.
If UPnP doesn't work for you, or you want ports in the router to be opened permanently, you may need to setup port forwarding manually. You can click here for detailed information about how to setup port forwarding.